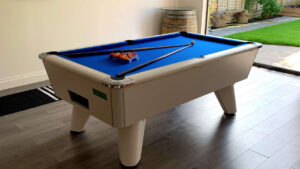 Coin Operated Pool Table
The programmability Operators and Locations both have been asking for are added to the Sedona's Southwestern flair to create the Dynamo Sedona DBA – Equipped with an MEI Bill Acceptor and a new 18 Amp Interstate Battery. Electronic enhancements include convenient program copying, additional happy hour and bonus pricing options, improved battery protection, a one-touch battery voltage check feature and league dues capability.
US Billiards (USB) coin operated pool table parts for sale. Our complete line of pool table parts includes everything you need to repair your US Billiards (USB) pool table. Our pool table parts include rubber rail cushions, rail assemblies, coin doors, coin mechanisms, legs, feet, balls, cue balls and a host of other parts.
Some Features
Our pool tables come in 5 sizes and 4 standard colors.
600 stands for 6′ table, 650 would be 6 1/2′ table and so on.
The "E" stands for "Eagle" which in the name for our table with mahogany laminate and green cloth.
The "L" stands for "Legacy" which would be black laminate with electric blue cloth.
The "M" stands for "Monarch" which would be light oak laminate with green cloth.
The "N" stands for "Neon Lites" which would be black laminate, black cloth, electric blue rail cloth and neon yellow trim. This particular table will glow under a black light.
The Sam Magno is an American pool table using 2 1/4″ spots and stripes balls, with a 20mm slate bed, available in 6ft, 7ft, 8ft and 9ft sizes.
The Magno Pool Table, a strikingly contemporary American pool table in a range of stunning finishes including such unusual choices as Zebrano and Black Labrado, as well as more usual choices like Silver or White. See our other listing for the stunning Magno Cosmic – which actually glows in the dark!
This superb table has a solid frame construction in phenolic plywood and aluminium, coated in top-quality Formica. It has scratch and mark resistant rails in tempered aluminium with inlaid sights. Natural SK cushion rubber provides maximum accuracy and true rebound. It has a one piece top-quality diamond-honed slate bed, maintenance-free DLS ball release system, and X-shape ball return track system.
With exemplary build quality, design and playing characteristics these tables are the standard installation choice for the majority of commercial sites. But they are also incredibly popular with discerning home users who want the very best quality game of pool in their own home gamesroom.
Accessory Pack:
We supply your new Magno pool table with everything you need to get playing from the moment it is installed:
American Pool Balls: 2 1/4″ Spots and Stripes
2 American 57″ Pool Cues
Triangle
Chalk
The balls can be upgraded to Aramith Spots & Stripes or Super Aramith Pro TV, at an extra cost.
American Pool – played with 2 1/4″ Spots and Stripes
Coin Operated Pool Tables