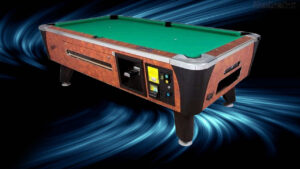 Tournament quality British slate bed table, 3/4 thick Italian playing slate and available as freeplay and coin operation models.
The Ultimate British Pool Table
The Supreme Winner is an English slate bed pool table that comes in two sizes: 6ft and 7ft. Its tough, stylish design makes it the popular choice for pubs, clubs and venues all over the U.K. and beyond.
With solid, resilient construction and tougher than old boots, the Winner is designed to withstand years of use and abuse in the most demanding environments. But for players looking for tournament-level slate bed performance in the home, the Winner is also the number one choice.
The ball return system on the Supreme Winner table
Tough MDF Body
The wedge-shaped cabinet is a tough, commercial-standard body and is topped with an ergonomic top rail, designed to be comfortable for the hand to rest on. Die-cast corner caps finish the table and provide extra protection against knocks and bumps.
The legs are formed from thick, strong plastic, colour-matched to your choice of finish. Each foot is equipped with a levelling thread for easy adjustment. Inside the table, a ball return system directs balls back to the collection area.
The Supreme Winner has excellent cushion rebound
Italian Slate Bed & Strachan Cloth
The playfield is a single piece of precision-cut Italian slate, carefully calibrated at the factory to provide the flattest surface. Over this is stretched a Strachan cloth, one of the leading brands of napped pool cloth.
If the six standard colours don't do it for you, we can arrange for any cloth to be fitted – even a custom cloth to your own design. The cushions are tournament-standard and highly responsive, providing the correct level of rebound.
The Winner pool table corner cap
Choose Your Finish
Winners are most often built in Black Pearl, White Pearl, Oak and Walnut. These popular finishes set off the table beautifully and are easy to maintain and clean.
A range of more unusual finishes is also available, including Aluminium, Amberwood, Rustic, Italian Grey, Driftwood and Black Marble High Gloss.
Endorsed by the World Eightball Pool Federation.
Coin-Operated Billiard Table