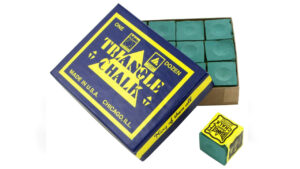 Snooker chalk has been a big topic in snooker over the past year. But still, people continue to ask questions about it.
What snooker chalk do the professionals use? Currently, the chalk taking the professional game by storm is the new Taom chalk. The chalk is being hailed as revolutionary because it does three things: It doesn't cause kicks, isn't messy, and, it hardly cause you to miscue. Some pros though are still using the ordinary Triangle chalk, which is still used today in the amateur and pro game.
How long does snooker chalk last? This depends on how much you play? The new Taom chalk should last you a long time because of how it's made with a secret ingredient not disclosed by the creators at Taom. Normal Triangle chalk doesn't last very long depending on how much you play – and you will get through a lot of it depending on how often you are playing matches and frames. Assassin Cues has been playing with Taom chalk for the last eight weeks and the chalk has barely scraped the surface of being worn so there is plenty of chalk left in his one!
What does snooker chalk do? Simply, chalk is designed to help to make it easier for you to grip the cue ball to play the shots in snooker that you need to play the game well and make high breaks. For example, chalk is a grit that will enable you to put spin on the cue ball to play top spin, back spin and really grip the cue ball on the tip's impact. If you don't have chalk on the tip then you will miscue. Remember to chalk your cue on every shot so you don't miscue!
How is snooker chalk made? From Wikipedia Cue Sports – "Cue tip chalk (invented in its modern form by straight rail billiard pro William A. Spinks and chemist William Hoskins in 1897) is made by crushing silica and the abrasive substance corundum or aloxite (aluminium oxide), into a powder. It is then compressed into solid form and voila! Chalk!
Why is snooker chalk blue? Actually, there are loads of different colours for chalk – but blue has been a standard colour since the year dot. Here from the Snooker Heritage website is a brief quote on the early use of chalk: "The earliest reference I have found concerning the use of chalk in order to give the cue a better "bite" or "grip" seems to indicate that during the 1820's Edward Bartley of Bath first used chalk in order to apply "screw" or "side" to Billiard Balls, having discovered the advantages of using chalk for this purpose he astonished the spectators by the shots he was then able to play."
Is snooker chalk poisonous? Assassin Cues certainly wouldn't recommend you eating it! But joking apart, unless you have a skin allergy to some of the agents used in chalk, then consult your doctor or GP if you find you are allergic or something is not quite right! For info on this – go here…
How much does chalk cost? Chalks vary in price. For Triangle chalk, the price is reasonable and you can pick up a box of 24 pieces on Amazon for around £7. The new Taom chalk is the top end of the market, and costs £15 from some stockists on ebay. Some are charging more! With Taom though, you're paying for the quality and the fact it reduces kicks, is the cleanest chalk on the market and very seldom do you miscue with it!
Chalk for Snooker Cues